SPECIFICATIONS
MATERIAL: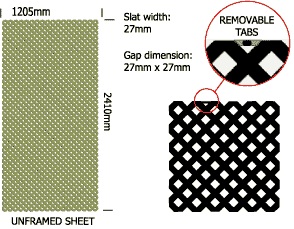 PolyPropylene (PP)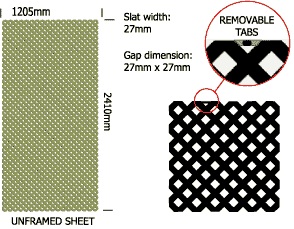 resin with pigments, antioxidants and UV stabilisers added
WEIGHT:
Privacy Diamond Approximately 8.5 kg per sheet
BLOCK OUT:
Approximately 75%
THICKNESS:

Approximately 5mm excluding tabs
SHEET DIMENSIONS:
At 0 degrees C - 1202 x 2404 mm
At 20 degrees C - 1205 x 2410 mm
At 40 degrees C - 1208 x 2416 mm
Note - dimensions shown above are an approximation of sheet size variation due to changes in ambient temperature.
TABS:
The tabs moulded around the perimeter of the lattice are designed to help with installation.
If you have to reduce the size of the lattice sheet to fit your installation, always retain the tabs at the top of the sheet.