Standard picket colours are Off White, Smooth Cream and Caulfield Green.  Other colours can be made to order - minimum order quantities apply. 
Standard width of pickets is 62mm (+/-0.5mm). 
Standard picket thickness is either 18mm or 12mm (+/-1mm).
Standard picket heights are 800mm and 1200mm (+/-2mm). 
Other picket heights can be manufactured to order (up to a maximum of 2400mm).
Standard picket rail section is 40x40x1.6mm galvanised steel square tube.
Standard picket rails are 2400mm (+/-1mm) long.  Other rail lengths can be made to order.
Picket fence panels are supplied 2400mm long with pickets assembled to the rails with either 20mm or 45mm gaps between pickets.  Panels with other lengths or gaps between pickets can be made to order. 
Gates are available in two standard sizes: single 900mm wide or two-leaf 3200mm wide.  Non-standard gates can be made to order.
Posts for picket fences are available in galvanised and powder coated steel square tube 65x65x2mm or 89x89x2.5mm.  Posts with flat top steel post caps can be ordered in any of the 12 Colorbond® colours below: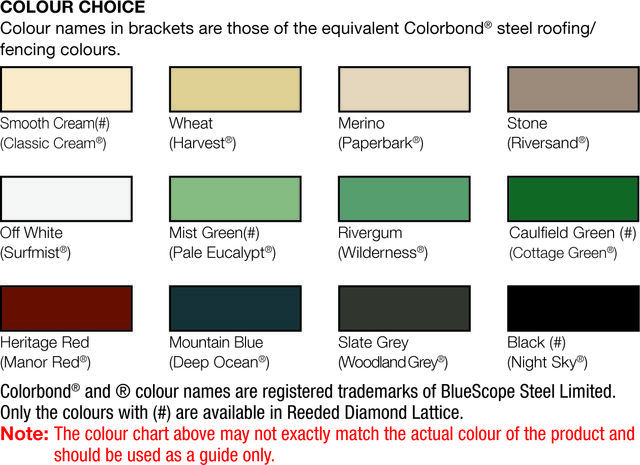 We use 2 rails for pickets 1200mm high or less, and 3 rails for pickets over 1200mm high.
A galvanised and powder coated plinth 62mm deep x 152mm high is available for fitting at the bottom of the pickets.
The pickets are attached to the rails from the front through pre-drilled holes in the pickets and the rails using galvanised countersunk bugle head screws which are powder coated to match the pickets.  Security screws are available if required.